Arthur and Phil have been together for 20 years as a committed couple. Both had long careers as lawyers. Phil worked for 30 years as an in-house corporate lawyer for a large insurance company. Arthur concluded his legal career as the Dean of Students at New York University Law School.
They retired in their mid-50s and have followed a wide range of passions: art, music and travel. But at the top of the list is yoga instruction. They have created an amazing experience called AP Yoga. Yes, between Memorial Day to Labor Day, you'll find them on the beach in Asbury Park, NJ. Seven days a week they teach yoga seven-days-a-week to an enthusiastic group of regulars and tourists from 7:45 to 8:45 am.
During the winter months, they teach yoga on Saturday mornings in their local community center in nearby Interlaken, NJ. And that's where Second Act Stories had a chance to catch up with them and their students.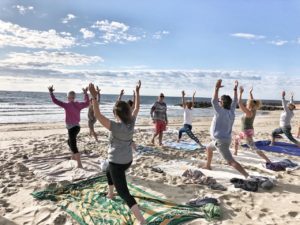 Special thanks to my friend Jodi Heinz who is a regular at AP Yoga and suggested this episode.