Ken Coleman is the #1 bestselling author of "The Proximity Principle" and host of the nationally syndicated radio show "The Ken Coleman Show." As America's Career Coach, he helps callers discover what they do best so they can do work they love and produce the results that matter most to them.
In Ken's new bestselling book, "From Paycheck to Purpose," he draws on what he learned from his own ten-year journey as well as from coaching thousands of others to walk readers through the seven stages to discovering and doing work that gives you both a great income AND big impact.
In this special expert interview episode of Second Act Stories, host Scott Merritt traveled to the Nashville headquarters of Ramsey Solutions to sit down with Ken for a face-to-face discussion about his new book.
Learn more about Ken at www.kencoleman.com.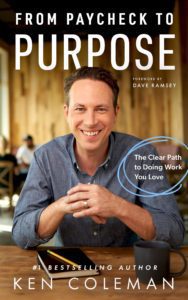 You can purchase "From Paycheck to Purpose" at the Ramsey Solutions online store, on Amazon, or wherever fine books are found.