Robert Brace grew up in London — the eldest son of a single mother who emigrated from Ghana. His family expected him to pursue a traditional career — a lawyer, accountant or doctor. But at the age of 15, he fell in love with the world of dance earning scholarships to the London Contemporary Dance School, Alvin Alley American Dance Theatre and the Dance Theatre of Harlem. To support himself during his early years in New York City, he became a personal trainer on the side — earning $7 per workout.
After a decade in professional dance, he opted to become a full time minister with the Churches of Christ. But the transition proved difficult. And with a wife and a new-born child, he reluctantly went back to personal training — this time earning $18 per workout.
Success came when he finally opened his own personal training practice, Brace Life Studios. And his big break came when he teamed with comedian Mark Malkoff for a YouTube video focused on helping Mark get "six pack abs in 28 days." That eventually transitioned into the Brace Life Studios "28 Day Challenge."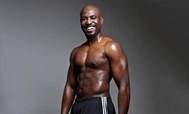 Today Robert has a full roster of celebrity clients that pay up to $225/hour for a one-on-one session with him.