Cody Keenan started working in the White House at the age of 28 and rose up to the role of Chief Speechwriter for President Barack Obama. In terms of his chosen profession, he was at the top of the mountain at a very young age. But after eight years, the Obama Presidency ends. What does he do next?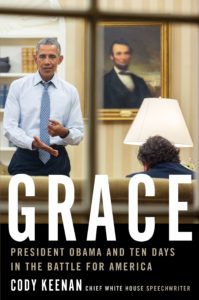 After the White House, Cody has accomplished a lot. He has collaborated with Barack Obama on his best-selling, presidential memoir, A Promised Land. He's now completed his own book, Grace: President Obama and Ten Days in the Battle for America, which debuts on October 4, 2022. He has joined Fenway Strategies, a strategic, communications firm that helps write speeches for others.
But according to Cody, the most rewarding part of his second act is teaching the next generation of political speechwriters in a small class at his alma mater Northwestern University. "It's the best thing I do. It pays the least but it's the most fun. I get to watch these students grow and improve and get excited about politics and its possibilities."
In this episode of Second Act Stories, we go behind the scenes at the White House to learn the story of the eulogy which President Obama and Cody wrote for the funeral of Reverend Clementa Pinckney and eight other congregants at the Emanuel African Methodist Episcopal Church in Charleston, South Carolina. During the service, President Obama surprised the congregation by signing Amazing Grace.