Kiku Mehta was born in 1937 and grew up in the Gujarat Province on India. He was trained as a lawyer there but emigrated to the United States in 1964.
When he arrived here in the US, he set aside his work as a lawyer and went to work as a social worker for Children's Services Inc. in Philadelphia. It paid the bills and helped him and his wife Kira put their three daughters through college.
He stayed with Children's Services for 51 years. But when the organization shut down in 2017, Kiku was out of a job.
With the help of his youngest daughter and a family friend – both lawyers – Kiku want back to school to complete 41 continuing education credits and pursue the reinstatement of his law license. And today at the age of 83, he now practices immigration law in Philadelphia at the law offices of Stanley J. Ellenberg.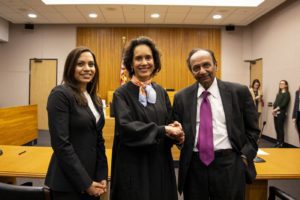 Kiku Mehta's advice to others considering a second act: "Do it to help people. My background as a social worker helped me to do it that way. So, money is the last thing on my mind. I joined the law profession to help people."
We learned about Kiku's story from a terrific article, "He Returned To The Courtroom At 82 For A Second Act As A Lawyer" in the Philadelphia Inquirer. Special thanks to Mari Schaefer for her excellent reporting.