David Bowers worked as a salesman for the Columbia Rubber Company for 39 years. He spent his professional life selling conveyer belt hoses to quarries and heavy machinery operations. But since the age of ten, he always had a fascination with the world of magic.
For a 50th birthday celebration, his wife Judy hired a professional magician. And at the end of his performance, he pulled David aside and said: "I hear you're interested in magic. How would you like me to become your mentor?" And that conversation launched his second act as a professional magician.
David and his wife Judy (aka the baloon-twisting/face-painting Miss Penelope) have put on hundreds of magic shows over the past 25 years. But his favorite audience remains pre-school children. "They are like a sponge. They soak up everything I do."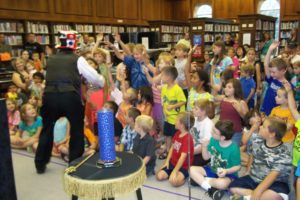 Now 75 years old, he plans to continue performing for as long as he can still walk. "I love being a magician, And when I die, I want to be buried in performance clothes — sparkly vest and everything. Even when I die, I don't want to give it up."
Click here, to learn more about the performance of David Wayne (his stage name) and Miss Penelope.