Detroit native Scott Weiss grew up in a family that emphasized formal education, but by his own admission, he was not a particularly good student. Scott attended Michigan State University, which was more a means to make money than to gain an education.
After graduating, Scott made his way to Atlanta, landed a job with Turner Broadcasting and by the age of 34 he was an executive vice president who launched the CNN Airport Network and often worked directly with Ted Turner. At this stage, Scott's bosses sent him to a communication training workshop at Speakeasy that changed the course of his life.
Because of his experience, Scott left Turner and joined Speakeasy, a move that slashed his salary by two-thirds, but that added much needed purpose to his life and his career. Today Scott continues to lead this organization that profoundly impacts people's lives.
Click here to learn about Speakeasy.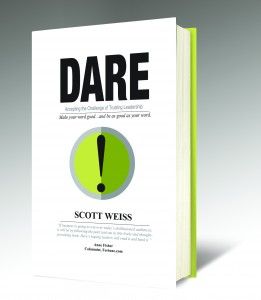 More information about Scott Weiss and his book DARE: Accepting the Challenge of Trusting Leadership is available at this link.