After graduation from high school, Carolyn Curtin enrolled at the Wilfred Academy and received a degree in cosmetology. For years, she worked as a hairstylist. But her path changed in 2002 when she purchased a 100-year-old, Victorian house in Asbury Park, New Jersey and set about restoring it to it's original glory.
The city was in the midst of a major revitalization and historic buildings were been "clear cut" to make way for progress. Carolyn saw both beauty and historical significance in these structures and she started to extract items of value in advance of the wrecking ball. She began offering items she didn't need for her own restoration — columns, railings, doors and reclaimed lumber — to others around her. Local Asbury Park Historian Helen Pike gave her the moniker of "Salvage Angel" and that ultimately became the name of her new company.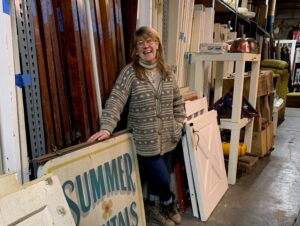 Today, "Salvage Angel By The Sea" has hundreds of thousands of items for sale — moldings, exterior doors, custom made rugs, stained glass, lighting, plumbing fixtures, tile, furniture, nautical fittings, bathtubs, mantles and housewares. And it's all things that were headed to the junkyard but Carolyn figured out a way to reclaim and save it for others. It's housed in a 20,000 square foot former Canada Dry warehouse which Carolyn acquired in 2014.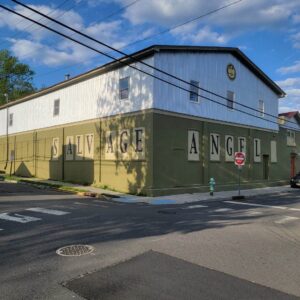 In the past seven years, she has also begun renting items to the television/film production industry and her wares have been featured in shows ranging from The Marvelous Mrs. Maisel to West Side Story to Pretty Little Liars. Production crews now represent 70% of the company's revenue.
39bZYcvf8bSnNWDRFBug