Brian Noyes was an art director for 30+ years with top publications like The Washington Post, Smithsonian, Architecture and House & Garden. He loved his work. But he also loved baking. And he regularly took week-long courses at schools like the Culinary Institute of America in Hyde Park, NY and L'Academie de Cuisine in Gaithersburg, MD.
After the September 11th attack, he decided to buy a weekend house in rural Virginia — an escape from his design work in Washington, DC. As a hobby, he started making jams and pies for a local country store under the name the Red Truck Bakery. He quickly developed a devoted, local following.
His big break came in 2008 when legendary New York Times food columnist Marian Burros tried some of his baked goods at a friend's 4th of July party. She later wrote in a holiday, round-up article:
"One of my favorite discoveries is Brian Noyes, the owner of the Red Truck Bakery in Virginia, who has a deft hand with pastries and an unerring sense of flavor balance."
Brian's website went from less than 25 visitors per day to 57,000 visitors on the day the article appeared. And it was the push he needed to quit his job as an art director and open the Red Truck Bakery in Warrenton, Virginia in 2009.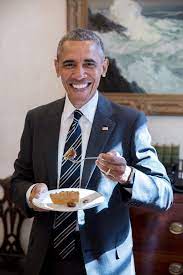 Today he has stores in both Warrenton and Marshall, Virginia and a staff of 50 people. He ships dozens of pies, cakes and granola each day. He also has a devoted fan in former President Barack Obama who wrote a salute to the Red Truck Bakery in his final year in office. Special thanks to Cody Keenan, President Obama's chief speechwriter, for coming on the podcast and sharing this story with us.
You can sample their baked goods for yourself by visiting www.redtruckbakery.com. You can also order Brian's first book "The Red Truck Bakery Cookbook" and his second book, "The Red Truck Bakery Farmhouse Cookbook" (which comes out on August 2, 2022). And if you find yourself passing through Virginia's Shenandoah Valley, make it a point to drop by one of their stores. You won't be disappointed.